Among Giants: A Life with Whales (Hardcover)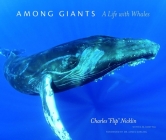 Description
---
It all started in 1965 with a guy riding a whale. The guy was Flip Nicklin's father, Chuck, and the whale was an unlucky Bryde's Whale that had gotten caught up in some anchor line. Hoping to free the whale, Chuck and some friends took their boat as near as they could, and, just before they cut it loose, Chuck posed astride it for a photo.

That image, carried on wire services nationwide, became a sensation and ultimately changed the life of Chuck's young son, Flip. In the decades since that day, Flip Nicklin has made himself into the world's premier cetacean photographer. It's no exaggeration to say that his photos, published in such venues as National Geographic and distributed worldwide, have virtually defined these graceful, powerful creatures in the mind of the general public—even as they helped open new ground in the field of marine mammalogy.

Among Giants tells the story of Nicklin's life and career on the high seas, from his first ill-equipped shoots in the mid-1970s through his long association with the National Geographic Society to the present, when he is one of the founders of Whale Trust, a nonprofit conservation and research group. Nicklin is equal parts photographer, adventurer, self-trained scientist, and raconteur, and Among Giants reflects all those sides, matching breathtaking images to firsthand accounts of their making, and highlighting throughout the importance of conservation and new advances in our understanding of whale behavior. With Nicklin as our guide, we see not just whales but also our slowly growing understanding of their hidden lives, as well as the evolution of underwater photography—and the stunning clarity and drama that can be captured when a determined, daring diver is behind the lens.

Humpbacks, narwhals, sperm whales, orcas—these and countless other giants of the ocean parade through these pages, spouting, breaching, singing, and raising their young. Nicklin's photographs bring us so completely into the underwater world of whales that we can't help but feel awe, while winning, personal accounts of his adventures remind us of what it's like to be a lone diver sharing their sea.

For anyone who has marveled at the majesty of whales in the wild, Among Giants is guaranteed to be inspiring, even moving—its unmatched images of these glorious beings an inescapable reminder of our responsibility as stewards of the ocean.
About the Author
---
Widely regarded as the world's leading cetacean photographer, Charles "Flip" Nicklin grew up around his father's small dive shop on the California coast. He went on to become National Geographic's premiere whale photographer and marine mammal specialist. Over the last quarter century Flip has photographed more than thirty species of whales and dolphins, some so endangered their very survival is in question. In 2001 he co-founded Whale Trust, a non-profit organization dedicated to research and public education. 
Praise For…
---
"This is not only a book of extraordinary pictures, which it is, and the story of an extraordinary life, which it is; this is the story of the man who opened the window on a world we barely knew existed before his work. A compelling, engaging adventure story, well told. I can't recommend it highly enough."
— Christopher Moore, author of Fluke
"Flip Nicklin's work reaches us on a profound level: his images inspire. They make us feel hopeful, passionate, engaged, transported, alive. He takes us under the surface with him, into a universe where we have front row seats to the most magical and wonderful giants on our planet, allowing us to witness an otherwise unimaginable marine world. With his talent and vision, Flip singlehandedly took underwater photography—and marine mammal photojournalism in general—to an entirely new level. Flip is, simply, the best of the very best."
— Paul Nicklen, photographer and author of Polar Obsession
"Flip Nicklin is my favorite marine mammal, and one to whom I am grateful beyond measure. As a colleague on National Geographic assignments, he guided me down into the underwater realm and shared the secrets he has spent so many years uncovering there. As an author, he does the same for readers in this revelatory tale of a life like no other among the biggest and most mysterious beings on the planet."--Douglas Chadwick, author of The Wolverine Way
— Douglas Chadwick
"Flip Nicklin is one of the great names in nature photography--someone who has turned photography of marine mammals into art and inspired a generation. What's surprising is that this is the first major collection of his work.
It contains his classics, often the first-ever picture of a species or a behaviour--many of which are still the best pictures of their kind--but also new images, often thought-provoking compositions of gatherings of great whales.
With his text, the book also tells a story of discovery and the growth of our understanding of whale behaviour. The salutary reminder of how little we know about whales is that some of the pictures that Flip has taken are of individuals that were alive long before (modern) whale biology was born."--Rosamund Kidman Cox
— Rosamund Kidman Cox
"In
Among Giants
, Flip Nicklin's fabulous photographs and his captivating text combine to give us a true feeling for the animals of the interface between land and water (and sometimes ice). The world of whales is brought into focus by the world's best cetacean photographer, and his deeply personal story expresses his love and admiration for these marvelous and mysterious creatures. You will hold your breath as you descend into the depths with dolphins, belugas, sperm whales, and humpbacks, and exhale with sheer delight at the experience of diving with Flip and his enchanting companions."
— Richard Ellis, author of The Great Sperm Whale
" 'Flip' Nicklin is National Geographic's 'whale guy.' Any time the magazine runs a story on whales, Nicklin is the photographer sent to illustrate the story. It all began in 1963, when the author's father was running a dive shop in San Diego. When the father and  a couple of buddies discovered a Bryde's whale tangled in a gill net, they photographed the whale and then freed it. Inspired by both photography and diving, Nicklin bummed around until he got a chance to work as an assistant with humpback-whale research in Maui. There he got an iconic photograph of a male whale head down in the water, singing, and he was on his way. Nicklin has created an exciting tale combining the adventure (and drudgery) of field research and the discovery of what whales do and why. Humpbacks in Hawaii, narwhals and belugas in the Arctic, killer whales in Canada, sperm whales in Sri Lanka, and dolphins in Galveston Bay all tell their stories in Nicklin's marvelous images."
— Booklist