Morning on the Lake (Paperback)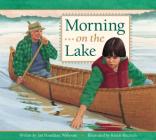 $7.95
Usually Ships in 1-5 Days
Description
---
In the first of three linked stories, a young boy and his grandfather set out in a birchbark canoe early one spring morning. Together, they discover the peaceful beauty of the lake. In the second story, the sun rises high in the summer sky as they climb a rocky cliff for a bird's-eye view of the land. And, finally, as an autumn night descends, they venture into the woods. Under the patient and gentle guidance of his grandfather, the boy gradually comes to respect the ways of nature and to understand his own place in the world.
About the Author
---
Jan Bourdeau Waboose is a First Nations writer. She lives in Toronto, Ontario.
Karen Reczuch has illustrated many award winning children's books, including Morning on the Lake and The Dust Bowl, winner of the 1997 Toronto Chapter I.O.D.E. Award. She lives in Acton, Ontario with her two children.
Praise For…
---
Filled with lessons of love and respect for Mother Earth, this book is packed with many Ojibway cultural references for young readers. Noshen and his grandfather, Mishomis, set off in a birchbark canoe, climb a mountain and stand off a pack of wolves - all in one day. Noshen learns that he is brother to the wolves and need not be afraid of any animal he meets in the woods. Karen Reczuch's illustrations of many culturally-relevant objects like beadwork designs and Mishomis' moccasins make this book something to be treasured.—Aboriginal Voices

A Native American boy and his grandfather spend a full day in the wilderness. From a morning encounter with a family of loons on the lake, to an evening face-off with some wolves, the child is reassured by his grandfather's presence and wisdom. Quiet in tone, the contemplative first-person narrative brings the Ojibway view of the world into focus. The idea that people are part of nature and must respect both land and animals is never directly stated but is clearly shown. The full- and double-page watercolors are attractive and somewhat photographic in nature.—School Library Journal

From the first words of Morning on the Lake, it's evident the author has an abundance of love and respect for the force of nature in all its magnificence. And, as we follow the young native protagonist and his grandfather, the call of the wild sounds ever more clear. Early one morning, the boy and his grandfather set off in their canoe and are rewarded with a rare glimpse of a family of loons. Later that day, they climb to the top of a hill and have an encounter with a bald eagle. And in the still night, the boy comes face to face with a pack of wolves. In this boy's traditional world, nature is given very human qualities which can set the heart a-thumping as well as soothe the spirit. Karen Reczuch's tranquil illustrations lovingly portray the relationship between man and his surroundings.—Children's Book News